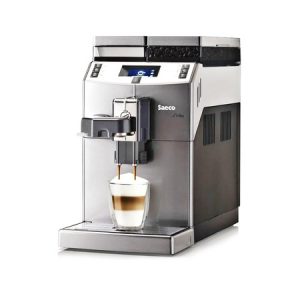 Description:
Saeco Lirika is the newest jewel for the OCS and small
HORECA environment.
Easy to use/maintain thanks to the large display with
clear messages and icons, and high capacities to fit semiprofessional
applications. Short or long coffees can be
dispensed, as well as hot water and steam via independent
wand. The pannarello frother helps you in creating creamy
cappuccinos and latte macchiatos.
Lirika benefits of all the best Saeco know-how: removable
brewing unit (with aroma selection for the Plus model), prebrewing
system, A class boilers and ceramic grinders.
Enjoy your espresso specialities from fresh beans, easy to be
prepared and served as in the best Italian cafè!
Main features:
• Saeco brewing unit, with adjustable strength (Plus version)
• State of the art interface: 3 colours graphic display with
clear buttons
• Extensive programmation menu, easy to be set
• Professional homologation
• High capacity: 2,5 l water, 500 gr coffee beans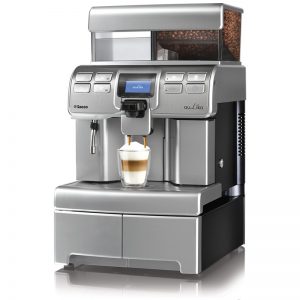 Description:
Aulika is a professional automatic machine designed for
the Office market, and is the expression of the high quality
of Saeco technology.
It is equipped with a brewing unit with preinfusion and
electronic regulation of coffee in the cup.
It is also equipped with the "one-touch milk" dispenser
function, which is compatible with the office requirements,
and with a hot water wand.
Aulika is operated through a direct selection keypad,
with an easily read display.
Aulika can work both autonomously or in water net
connection version.
Main characteristics
• High capacity containers for professional use
• 8 selection keys with direct selection of 5 types of drinks
• Simple, intuitive display
• "One Touch" function to prepare a cappuccino and/or latte
with a single touch
• Hot water wand
• Water filter installation and possibility to set the water hardness
value
• Mechanical regulation of grinding blades
• Stainless steel front and upper panels
Characteristics
The machine is supplied with an autonomous 4-litre tank and
a grounds drawer that has a capacity of up to 40 coffee cakes.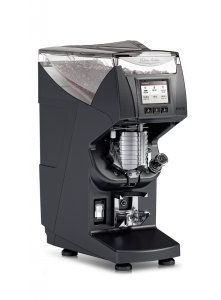 Grinding accuracy.
None knows the accuracy of my work better than Victoria Arduino. It patented the Gravimetric technology, which changed the rules of Espresso
coffee professional machines. This technology today is also applied to the very important stage of grinding, to improve (once again) the way I work.
With Mythos 2, the dose of ground coffee is measured with extreme accuracy through its actual weight, thus ensuring the best density and, together with the gravimetric machine, the guarantee to always offer my customers an unforgettable Espresso.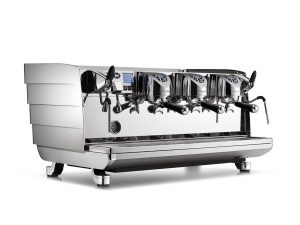 A new eagle is ready to spread its wings and land in all coffee shops that make quality and consistency their mission. It is called the VA358 White Eagle and is a new Victoria Arduino machine dedicated to specialty coffee.
Consistent, reliable, efficient. The VA358 White Eagle responds to the new specialty coffee shops needs, offering the possibility to use tall cups and glasses to serve their flavour experiences.
The technology that ensures maximum temperature stability of the espresso machine.
In a professional coffee machine, temperature plays an extremely important role, as it strongly influences the quality of the espresso. A stable temperature provides an excellent and repeatable result.
But how? Again, through studies, research and experimentation, as well as working with the best baristas, we managed to find a solution that provides for the control of every single parameter. Thus was born T3, a technology that allows the barista to set three temperatures: for the brewing group, the water infusion and the steam.
What do you get? Control of the water supply's thermal accuracy that results in temperature stability and ultimately in a perfect espresso. This also comes about due to an electronic system, with probes for temperature, pressure and PID, which manages each variable.
We are working in order to offer specialty coffee shops espresso machines able to be consistent, reliable and efficient. This was the result we wanted to get with the new product that we developed: its name is VA358 White Eagle and it is dedicated to coffee shops putting Quality at first.
We studied an espresso machine able to respond to specialty coffee shops new trends, and we made it with tall group too in order to use big cups and glasses. The VA358 White Eagle supports the relationship between the customer and the barista. Viglino, the designer, rebuilt eagle's wings in a 51 centimeter-high product.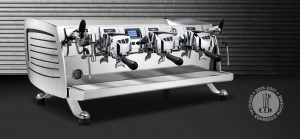 Solid, consistent and precise. The new VA388 Black Eagle is much more than an espresso machine; it is an enhancement of each coffee blend and an expression of every barista.
The solution for barista wellness
The barista has to work safely with a coffee machine designed to ensure maximum comfort. An example of this increased attention to the barista is "Push & Pull", the drive system for the steam nozzle that avoids unnecessary stress on the barista's arms. So the barista will never be too tired to prepare another cappuccino!
VA388 Black Eagle, the beginnings
A coffee machine for the specialty coffee shop, a machine that is stable, consistent and volumetric. In the continuous search for a constant result in the cup, many baristas have verified and demonstrated how the volumetric system allows them to obtain a significantly higher quality repeatable product compared to the manual system. The volumetric version of the VA388 Black Eagle addresses this need and goes beyond. We wanted to create a coffee machine for specialty baristas, making a volumetric model with the greatest temperature stability to help baristas in their daily work. We wanted the new machine to improve the relationship between customer and barista. The designer Viglino adopted a soft style, with more curves and asymmetrical elements, in a product 49 cm high.